Posted by Mr. NoMoreWetSpot on 20th Dec 2014
The Taboo Show facebook page just gave away one of our blankets in a Christmas draw (2014). Below is a compilation of some of the more amusing comments and occasionally our reply. Starting with the lady who won! Hope you enjoy!
There are so many reasons that I need this sheet!
1) A microfiber couch is really hard to clean if anything splashes on it.
2) Foam toppers on beds don't like getting damp either.
3) They're spectacular for protecting sitting bottoms from wet ground when we're outside at picnics, camping, etc.
4) The blanket is so soft and pettable, while being so enduring (have you SEEN how the demo one holds all that fountain water, sagging like a bowl but never releasing a drop? It's like a superhero blanket!)
5) Related to point 4, I imagine a NoMoreWetSpot blanket would double well as a superhero cape if turned red-sized out!
6) They're machine washable (which is handy after all the adventures it could have - diligently defending furniture, keeping bottoms dry on trips, keeping people warm, and/or acting as a superhero cape)
And finally, lucky number
7) They're designed discreet and classy. It's not something I'd need to find a dark corner for if parents came to visit. I could display it proudly in the linen closet along with every other blanket!
NoMoreWetSpot: Geez Liz, want to become a company Rep?? Awesome answer! Good luck!
Haha thank you! I've got my fingers and toes crossed in hope! As for a company rep, I'd be surprised if you'd need one! Look at these comments - the NoWetSpot blankets very nearly sell themselves!
I gave a gf one of these, she loves it and I am hoping to pick one up at the sex show this year! Alas they aren't coming to Saskatoon so I'll have to jump over to Edmonton or Regina to pick one up.. Would love to win this in case I don't make it.
NoMoreWetSpot: Atta girl Kelsey! we tell people it make a great shower gift!
I should win cause im poor. but I hear they are great getting caught in rainstorms lol
This would have came in handy last night, never have I ever seen such a big wet spot in my life hahaha. I swear to god she was a perpetual squirting machine. It just never stopped. It was like the energizer bunny. It just kept going, and going... Or should I say coming and cumming?
NoMoreWetSpot: Awesome, atta boy!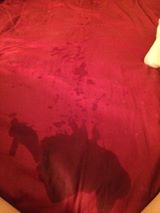 NoMoreWetSpot: This picture IS worth 1000 words!
Because my girl squirts so much I have to wash my sheets everyday
Need one of these, don't like cold wet spot
NoMoreWetSpot: It's not very conducive to cuddling after is it?
No it isn't... Lol, the spot divides us
We have one and love it! It lives up to the advertising. We have a cottage so it would be nice to have a second one instead of bringing it back and forth.
I'd like to mention that the holidays are soon to arrive and since it's just me and my girl this year this will come in handy seeing as we plan on having 48 hours of sexy time. Would really make clean up easier
I didn't even know this was a thing! Holy smokes!!! Wanna win
NoMoreWetSpot: It's not a shamwow, it's a sham F'n wow lol
Because I'm done with having to sleep with bottoms on to avoid the wet spot...and I never win, so I'm thinking my turn :):)
NoMoreWetSpot: Good luck! We agree, sleeping naked is WAY more fun!
I need these in my life because every time I have sex with my girlfriend she squirts all over my bed. I have to take my sheets off and use a ton of paper towel to soak it out of my mattress!!
NoMoreWetSpot: I feel your pain. NoMoreWetSpot, saving the landfills, one mattress at a time!
I clean enough as is!! This would make my life so simple!!
NoMoreWetSpot: And no need to hold back for fear of a big wetspot!
So I don't make a mess when squirting. What is it exactly?
NoMoreWetSpot: It's a 50X60 waterproof fleece blanket. You put it down before you play. Take it off when you're done and wherever your playing is clean and dry. Then throw it it the wash when your ready!
Also sex In random places in the house is great but the couch being wet is a little hard to hide from my teenage children
How could anyone do without one????
NoMoreWetSpot: Maybe we have a lot of sex, but I can't see how you'd be without two!
I would love to win this! Who doesn't hate those annoying wet spots!
NoMoreWetSpot You know who hates is worse? Memory foam, that shit never forgets!!
Wish we'd bought one last year. I may NEED one or two or three. Hate having to sleep in a wet bed. Towels just don't cover the whole bed.
Because the infamous "wet spot" always seems to make it to my side of the bed No matter where we are in the house! Plus my friends all love theirs I don't have to be jealous of their "wet spot" free beds anymore!!!
Umm because I really really need this 5 towels won't do, as well it's a cold crappy sleep in the drenched spot
I have one of these and it's AMAZING!! I want another one!
I bought this blanket at the last Taboo Show in Calgary, and it's awesome!! I need another one!
NoMoreWetSpot: Laundry rotation right!?! good luck!
Because this is something everyone needs for one reason or another
I would love this because I'm a squirter and there is nothing worse than a wet spot that is cold to sleep in and if you try to move over he laughs or the dogs lick the sheets and make it worse not to mention the pillow top mattress is not suppose to get that wet the spot doesn't clean well lol this would be a dream come true bring on sex more often if it was that much easier to clean up and I could sleep on a dry bed after!!!!!!!
Well as a squirter.....No more wet spot would save me from sleeping in the wet spot lol
Would prevent the dog from eating the sheets!!
I wonder if fish fight about who sleeps on the wet spot.. I know we do! I need this blanket to keep the fighting at bay. Lol
Best play blankets EVER!
NoMoreWetSpot: oh really, do tell!
I spilled a whole glass of wine, and my carpets were saved?...yeah...that's it...lol
Lol one of us always gets to sleep in the wet spot. And it's usually me tends to happen when he's only home once a month thanks to the job. Lol
Would love to have no more wet spots! Would surely make for a quicker save for when the kids unexpectedly come into the room before things are cleaned up...swoosh, remove, no more wet spot & I don't have to come up with anymore creative 'cover' up stories
NoMoreWetSpot: Good answer, as our kids are now grown, we forgot about this aspect! Now they just see them drying all over the house lol
Because Daniel, is getting tired of me complaining about washing my sheets a million times a day and not having to sleep in the wet spot anymore would be fantastic!!!!
Need this and not just for me and hubby I have little ones that sleep in the bed and sometimes the diapers leak
NoMoreWetSpot: It's a BedWetterBuddy too!
Because I always make a big mess
NoMoreWetSpot: Sex is messy, let it be!! Viva la NoMoreWetSpot!
I wouldn't have to use plastic garbage bags anymore. haha
NoMoreWetSpot: I hear ya! We say bigger than a towel and softer than a shower curtain!
Goes without saying that this item could be well used... and protect the mattress, pillow, carpet.... kitchen counter... and more.
NoMoreWetSpot: your kitchen counter ins;t waterproof? Just f'n with ya lol... All valid points!
Microfibre sofa need I say more???
There is usually lots of wet spots =p
NoMoreWetSpot: Enjoy the making, not the aftermath!
OMG!!!! I really need one of these... I am so tired of sleeping on an uncomfortable, scratchy towel after he's done with me. I was even thinking of having to resort to plastic sheets
NoMoreWetSpot: This way, you don't need to use a shower curtain! Good luck

OMG I am a waterfall!!! So need one of these pls!!
NoMoreWetSpot: We agree... We tell the gals who say "why?" that some lady rivers are bigger than other lady rivers!
I would like to use something softer than the bath towel.
NoMoreWetSpot: and more effective!
Nobody likes the wet spot so this is perfect
NoMoreWetSpot: We may be biased, but we agree!
Bcus I always have a wet spot on my side of the bed n would like it to stay dry
NoMoreWetSpot: so would your mattress! good luck!
We looked at this last time we went and didn't buy! Super disappointed! Would love to win one!
Wet spots are no fun
NoMoreWetSpot: but fun to make
My wife and I saw this these at the Calgary Taboo show and has been on my case since wanting to get one. Any thing to gain some brownie points...
Could make things alot more Fun for us.
NoMoreWetSpot: No more holding back!
I'm tired of all the laundry that I end up doing.
NoMoreWetSpot: We suggest two blankets... for the laundry rotation!
Freakin slip and slide in the bedroom... hell ya. I'll accept that challenge.
NoMoreWetSpot Hellz yeah for the slip and slide!
No one likes sleepin in the wet spot or havin tonnes of laundry to do.keep it dry and manageable with the no more wet spot sheet and enjoy more time with ur lover
This would be a great blanket to win! Would seriously be a great emergency blanket to put in the trunk plus I heard these blankets are great!
NoMoreWetSpot: Spot on Alisha! They get bought for many reasons.
I'm in desperate need of one of these...tired of sleeping in the wet spot!!!
NoMoreWetSpot: That's how they got invented!
omg I need this!!!!! My boyfriend can attest to that! The wet spot never ends up on his side of the bed somehow
NoMoreWetSpot: Weird... NOT! lol, we feel your pain!
Laying these down brings up one hell of an awesome challenge to try them out
NoMoreWetSpot: Amen, we dare you to break it!
cos the wet spots always on my side for some reason, then I have to sleep there lol, sigh!
Because these sheets are fantastic even in the guest room Shari xo